I was skype-ing some time in 2008 with a then 'special friend' of mine when I heard this awesome track playing in the background in his crib. An involuntary reflex to just get up and shake what my mama gave me (You know that subliminal urge to tab your feet when you are as rhythmically challenged as I am) came over me. OK... ok... yes that was my over-analytic way of admitting that I can't dance. Anyway, excited I blabbed to him;



"

Wow that's a nice

remix

"



to which he chuckled and replied;

"No bro, it's not a remix it's a

mash-up

. Don't you guys have that in your clubs?"

Thinking about it now, had that been last year I would have told him;



"No, in SA we subjected to rehashed

Durban

songs that all sound the same."


I mean the current SA hits sound like the same old songs that's been playing for the past 3 years just with different lyrics. Over and Over and Over Again... are you paying attention, Tira & co.?

I have been listening to mashup tracks and have to say I didn't like them much at first because most of them were 'mixes' of 80s pop songs. That all changed when I heard this

Dj Earworm

mash-ups of chart topping hits from 2007, 8 and 9. Wow, these are like really cool. To have a track with samples of all the songs that were no1 for that year and have the beat and the lyrics merged together so well it's just amazing. Of course cut-and-pasting songs is not a new thing it's been going on since the birth of popular music but the skill with which this mash-up artists create this tracks and videos is certainly the way of the future. The obvious question here would be: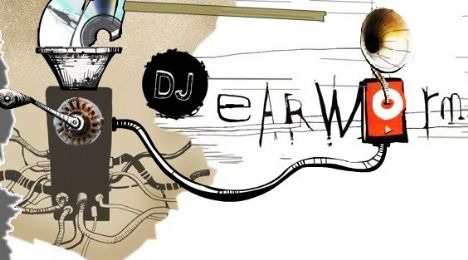 What's the difference between a remix and a mash-up song?



Well the answer is a little tricky. A remix is the reworking or adaptation of an existing song. The changes may be subtle, or it may completely redefine the track. one may add elements from other works, i.e. audio-mixing to do a master recording by altering the tempo, pitch etc but still retaining the feel of the track. Generally a DJ would focus more on creating an alternate version of the original. Simply put a remix is another version of an original song.

A mashup on the other hand is much more advanced than that. It involves intricate manipulation and altering of arrangement in a track by combining two or more songs. You would use time stretched full bar loops of the original beats and lyrics from all this songs to create a single track. The main thing that distinguishes a mash-up track from other mixes is that the lyrics have to form real sentences.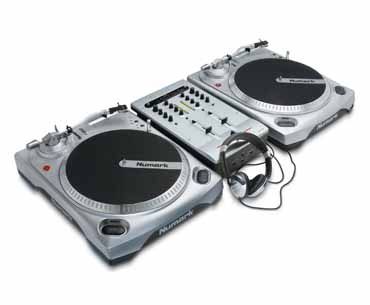 Mashup tracks are fun but not completely legal to share because they are mainly club mixes that should not be redistributed. The Copyright law states;



"Copyright infringement occurs if the whole or a substantial part of a copyright work is copied or adapted without the copyright owner's consent

."

However you have to be careful because what counts as a substantial part of said work would most likely be a question of quality than quantity. That would, for example, mean that a small but important part of a work such as a key clip from a video, an extract from a book or a hook line from a song could be deemed to be a substantial part of that material thus meaning copying or adapting it could land you in court.

The other thing is that major record labels would never willingly allow someone to use their music if they were not getting anything from it. However it's been hinted that some record labels are happy to let mash-ups boom because they rekindle some of this big stars' fading limelight. It's like the whole piracy thing: As much as it is a pain for the industry, it's not all bad because it helps create hype about the artists. For now the only way to get a mash-up song for personal use would be to download it. I would not encourage illegal distribution of music but if you type the word mash-up you would probably get to listen to some awesome tracks online *wink*

Ok Imma be nice. My favourite mashup track this year is

United States of POP 2009 (Blame It On The Pop)

by

DJ Earworm

. Here are the lyrics and artists below. If you listen to the track you will hear how perfectly merged the lyrics and the original vocals of the artists are in this track. Perfection!! Enjoy!

watch the video here: http://www.youtube.com/watch?v=iNzrwh2Z2hQ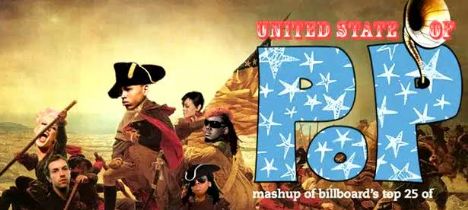 I know you want pop
You want dance
You want rock and roll
You want it (boom boom)
This year's remix got symphonic soul
I got pop
I got dance
I got rockin' electronic club beats
I got hip hop music with a future flow
So don't worry even if the sky is falling down (down, down)
Gonna be ok when it knocks you down, down, down
So baby don't worry (it's alright, a-alright)
When it knocks you down (when you go down, when you go down, down)
No need to worry
Just get back up when you're tumbling down, down, down (down down)
Feels like I've been awakened
Every step im takin' (every rule I had you breakin')
Every move im makin' (The risk that im takin')
The chances I'm taking with a big smile on my face and it never feels out of place
Blame it on the pop
Blame it on the dance
Blame it on the rock and roll
Blame it on the rumba
So in sync with the beats symphonic soul
I like them pop
I like them bass
I like them rockin' electronic club beats
Blame it on the hip hop music with the future flow
Baby don't worry (it's alright, a-alright)
When it knocks you down somewhere far along this road
Stressed out I want to let it go
I feel down, down, down (baby are you down, down down, down, down)
Oh (hey) I've been travelin' on this road too long (too long)
Just tryin' to find my way back home (back home)
But the old me is dead and gone, dead and gone
I got a feeling (woo hoo) I found God (God)
Blame it on the pop
Blame it on the dance
Blame it on the rock and roll
Blame it on the feeling when the music's keepin' (a-a-a-a) your soul
We got the pop
We got the dance
We got the rockin' electronic club beats
We got the hip hop music with the future flow
People in the place put your (put your) hands in the air (pu-pu-put your hands up)
(Oh oh oh oh oh oh) forever united here
Blame it on the po-po-po-poker face po-po-poker face
So live our life (hey)
Let's live it up (ho)
If you wanna get down (hey)
down (ho), down (hey), ma ma ma ma (ho)
I won't let you down (hey), down, down (ho)
So baby don't worry, (it's alright, a-alright)
When it knocks you down (when you go down, when you go down, down)
No need to worry
Just get back up when you're tumbling down, down, down (down, down)
Blame it on the pop
Blame it on the dance
Blame it on the boom boom boom
Gotta get that rumba
Blame it on the 808 with the boom boom boom
Gotta get that pop
Gotta get that dance
Gotta get that boom boom pow
I gotta get, I gotta get this year's remix with the future sound
I gotta feeling and I never really had a doubt that tonight's gonna be a good night
That tonight's gonna be good night and I say the same thing every single time
You know that I can use somebody (use somebody woo hoo)
Open up your plans and damn you're free (hey)
Look into your heart and you'll find love, love, love
(Feeling down, down, down)
Can't you see love, love, love
Isn't this easy (easy) feeling love, love, love
(Down, down, down)
Feels like I've been awakened
Can't you see (every step im takin')
Don't be afraid (the risk that im takin')
Can't you see (I've had a little bit too much)
(Feeling down, down, down)
Can't you see (every move im makin')
Every rule I had you breakin'
Isn't this easy (easy) feeling love, love, love
We'll make it out this mess (change your mind) baby just say yes
(Da-da-da-da-da-da-da-dah)
·
The Black Eyed Peas

- BOOM BOOM POW
·
Lady Gaga Featuring Colby O'Donis

- JUST DANCE
·
The Black Eyed Peas

- I GOTTA FEELING
·
Taylor Swift

- LOVE STORY
·
Beyonce

- SINGLE LADIES (PUT A RING ON IT)
·
The All-American Rejects

- GIVES YOU HELL
·
Taylor Swift

- YOU BELONG WITH ME
·
T.I. Featuring Justin Timberlake

- DEAD AND GONE
·
The Fray

- YOU FOUND ME
·
Kings Of Leon

- USE SOMEBODY
·
Keri Hilson Featuring Kanye West & Ne-Yo

- KNOCK YOU DOWN
·
Jamie Foxx Featuring T-Pain

- BLAME IT
·
Pitbull -

I KNOW YOU WANT ME (CALLE OCHO)
·
T.I. Featuring Rihanna

- LIVE YOUR LIFE
·
Soulja Boy Tell 'em Featuring Sammi

e - KISS ME THRU THE PHONE
·
Jay Sean Featuring Lil Wayne

- DOWN
·
Miley Cyrus

- THE CLIMB
·
Drake

- BEST I EVER HAD
·
Kelly Clarkson

- MY LIFE WOULD SUCK WITHOUT YOU
·
Katy Perry

- HOT N COLD
PS: Do not download or distribute illegal music.... There I said it just incase some lazy

hater

reads this and accuses me of promoting PIRACY and Copyright Infringement