SA's no.1 Soapie, GENERATIONS, Redeems Itself
Caught an episode of South Africa's number 1 rated show, Generations last night and wow what a suprise. Have to say with all the ruckus it's been causing on Facebook it was kinda hard not to want to see what the fuss is all about.
You all know the Senzo-Sbusiso-Jason-drama. Well I was more interested on how the actors will pull this off. Clearly, the storyline has pulled more viewers back into the Generations' ARs.
Mfundi must be grinning all the way to the bank with all this people flocking back to watch what had become a dead horse. So in my always skeptical mindset I spend the whole 20 min watching the drama unfold.
Have to admit though I was a bit uncomfortable with all the lovey-dovey thing between Senzo and Jason, just a day ago my cousin suddenly out of the blue called me Senzo. I don't know what he was trying to imply but I did not entertain it.. darn, thank you very much Generations. *sigh*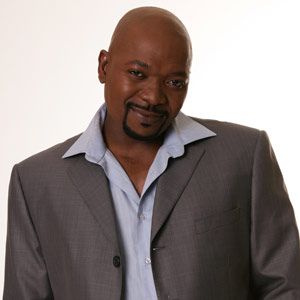 Menzi Ngubane
Truth be told I have never given Menzi Ngubane a time of day as an actor. I always thought his was a case of euphoric love by his fans confused as a sign of a good actor. I will however take this moment to say the brother has grown as an actor.
I was left gobsmacked as I watched Menzi deliver what I think it's his best performance to date. Gone are those annoying exaggerated gestures and inaudible dialogue. Has the brother been getting some speech coach? Even the English dialogue is not that bad for him anymore.
I was mesmerized. For the first time I saw him upstage Sonia in all the scenes they shared. Now that's what you call acting. It's sad that it had to take a story-line about bigotry for him to shine but he did a good job nonetheless.
Given the history of the show I am a bit concerned though. When Connie Ferguson gave what I deemed her best performance ever was during Karabo's pregnancy and subsequent miscarriage storyline.
Much as she was great I couldn't help but wonder if that had anything to do with the fact that Connie herself had gone through the same thing. If you are an actor you don't have go through something for you to be able to portray those emotions on screen.
Actors, real actors, are adaptable and versatile. Now with that in mind, I'm left wondering if Menzi Ngubeni is not channeling this brilliant performance from his own prejudice. I know that's nasty of me to think that but that's why you love my writing, I'm honest.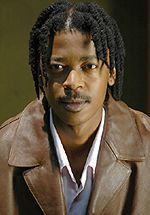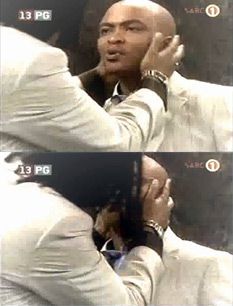 Xolisa Xavula ... the KISS that started it all
Another actor who deserves a nod from the Blaque-one has to be Zolisa Xavula aka Jason. Now this guy is a real actor. He gives such a sterling performance without trying too hard.
The dialogue and emotions flow out of him like he's known Jason all his life. Now with that investment from an actor to his character, I could watch him perform all day.
It's sad that some of his scenes with Thami (Senzo) get a bit lukewarm because of Thami Mngqolo's guarded performance. As if you reaffirm someone like me of his talent, Zolisa's scenes with Menzi took me to another place. I was sitting there thinking "damn, now that's acting at it's best". Big up brother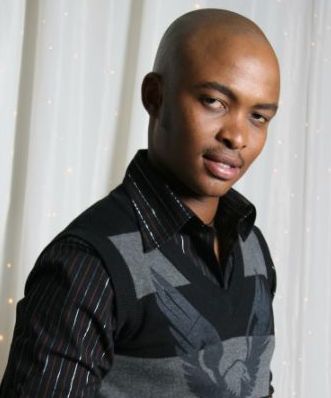 Thami Mngqolo as Senzo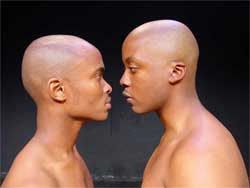 ....no comment....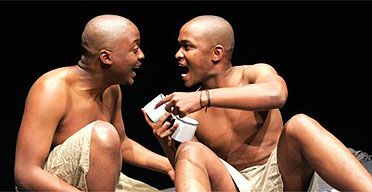 Thami with Mpho Osei Tutu in The Island in London
Thami, Thami, Thami… adorable as he is (yes I said adorable), he is way too guarded. I find him pulling back a lot with his emotions. I know someone probably told him not to make Senzo too soft but damn the flaws show when you only giving half of what you should be as an actor.
I would have thought with a rather impressive theatre background Thami would be owning the scenes he is in but sadly he doesn't. Lose the chip on your shoulders bro and just act… ACT ACT ACT.
That's what you get paid to do. This is not about you but Senzo. I feel like in a way you are cheating the character. Unfortunately when you are opposite brilliant performances like that of Menzi and Zolisa your flaws get magnified.
I hope the storyline will progress beyond this "outing" drama and if it does I would really like to see you come into your own and being in the moment with your character. Let Senzo tell the story, explore the emotions and deliver the message, not Thami.
I have a soft spot for matured actors, so I can't find fault in Baba-Jabulani. The scene in a bar where he is talking to Samuel about the gay thing between Senzo and Jason left me in stitches. It's always a pleasure to watch older actors especially when they are out of their element.
Older actors have a way of bringing some authenticity to their performances no-matter how mediocre the characters may be. I think because they are uninhibited by the celebrity thing that most young actors get caught up in, they are able to get on set and deliver.
All in all congrats to Generations, you may have redeemed yourself and for that I can only applaud and pray you live up to your status as the No.1 soapie in Mzansi.