A Chat With: Moonyeen Lee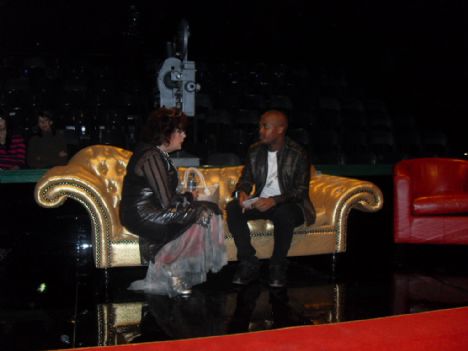 It's amazing how sometimes you have preconceived notion about people mainly fuelled by second hand information then you meet them and find out that they are the complete opposite of who you thought they were. That is exactly what happened when I finally had a chat with Moonyeen Lee.
I will be honest and say I expected our chat to be very formal and her being abrasive but I was in for the shock of my life. The woman is just like any other person out there who has her priorities in check.
We sat together after the live broadcast of Class Act: The Heist Episode. I began by trying to act all professional and stuck to the show but I quickly realized that I was talking to someone who is just as enthusiastic and passionate about this industry as I am.
I first asked her about what how she got involved with the show and she told me that she was approached by the people behind the production about her being a judge on the show.
I didn't really wanna dwell too much in her role as a judge on show as I have indicated in my previous articles that my involvement in covering this show is to get you guys and myself a glimpse of who this people are.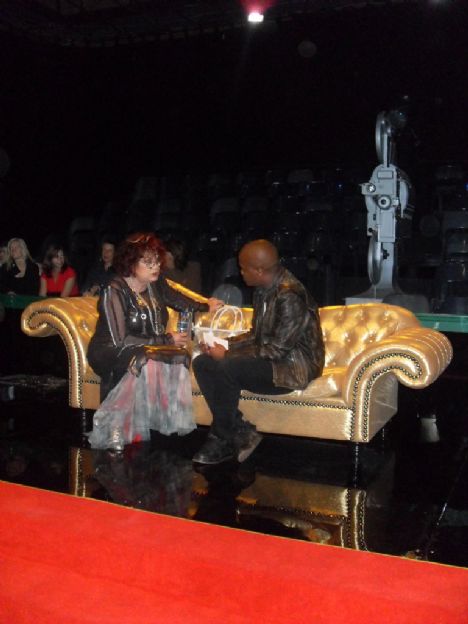 I proceeded to ask her about her view on whether she thinks any of the boys, even if they didn't win, had a chance at making it in the business. She told me that though she believes that some of them have potential they would need some guidance and experience for them to actually have a sustainable career as actors.
She further echoed the words of Tim Greene in my chat with him that this industry can afford one an opportunity to have a career that would put bread on the table for the actors. They as actors just need to set their priorities straight.
On this episode Vaughn was voted out and as it was clear from the beginning that the judges had given him a chance believing that he had the potential to grow as an actor, I was curious to know her thought on him leaving so early on the show.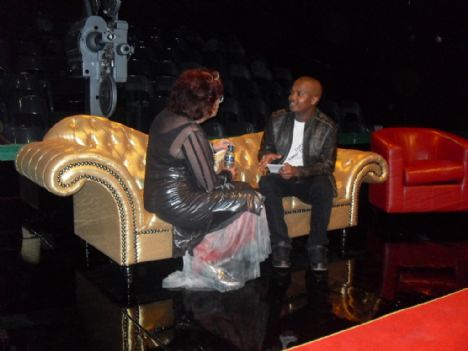 She told me (surprisingly honest and candidly) that the show is about finding a star and the reality is that being a star and an actor are two different things.
I totally concurred with her on that one but in the back of my mind I couldn't help but wonder if the motive behind the show is a bit dubious in a sense that, if they are looking for a leading man and that leading man will get the title only on the good fortune that he appeals to the viewers who watch the show, doesn't that defeat the purpose of getting true talent out there?
If they (the team behind the show) believe that true talent should be given the spotlight to shine, doesn't the whole concept of having viewers vote for their favourite (not that that person would actually have the talent to be an actor but would win based on his popularity with the voting viewers) jeopardize the validity of the man who will have the honour of being named "the Class Act"?
Just as I was on a roll about the industry and the pitfalls actors encounter in trying to build a career in this business, Moonyeen turned the table on me. She out of the blue showed some interest in what I do and what I hope to be in this industry.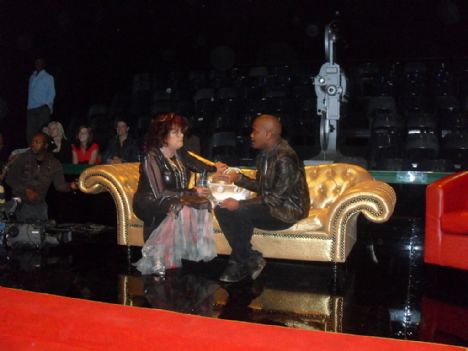 In that moment I stopped looking at her as this "dragon lady" but as a person who is genuinely interested in the progression of artists in this business.
After some small talk about my background and hopes for my career in entertainment we proceeded to talk about what she has been up to. She told me that she has just finished casting a production that is entirely in Sepedi and features the talent of young people who have never been exposed to acting or the industry.
Now here is a woman I have "known" to be a cold no nonsense person and now she is telling me about a project that is in earnest a good gesture in this business.
Who is this woman? Where is the coldness in her that I have heard so much about? I found myself dazed and confused about who Moonyeenn is. Yes, she was very nice to me but I just had to ask. I told her that she has a reputation for being an ice queen (not in those exact words of course) and she told me that she works 7 days a week and has to deal with somewhat difficult people sometimes and under difficult circumstances.
With those words I understood exactly why someone in her position would not have the luxury of playing Mary Poppins all the time. She has a work to do and judging by the weight her name carries in this industry she cannot afford to fall short on delivering on what's expected of her.
With names like Tony Kgoroge, Connie Ferguson and John Kani, to name but a few of the people she represents in her company Moonyeen Lee and Associates, she has earned her title as the leading actors' agent in Mzansi.
Beyond her rather stern demeanor and peculiar appearance lies a woman who has her feet firmly on the ground and under her wing many celebrated talent shine and make this country proud here at home and beyond our borders.
This was for me truly an enlightening experience to have this conversation with her and from that my belief that we are more than what our detractors proclaim us to be was solidified.