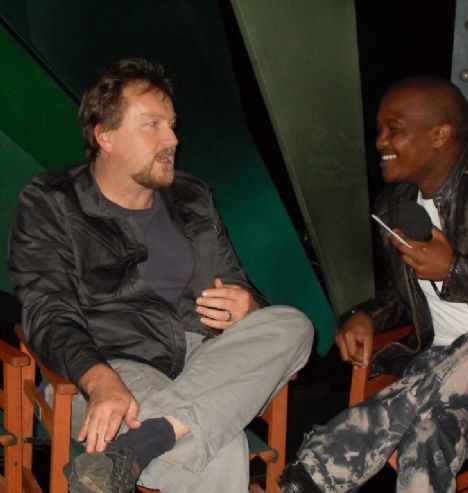 It doesn't happen very often, if at all, that you get the opportunity to have a conversation with someone that you admire. On most occasions when such an opportunity arises you inevitably tend to get tongue-tied and say stupid things. Last week I had a once-in-a-lifetime opportunity to have a conversation with one of SA's best and most respected directors of our time, Tim Greene.
I am not a journalist nor do I have any aspirations to be one. I prefer "commentator" as it affords me the opportunity to be frank about the subject I tackle without the bureaucracy of newsroom politics and red tape. I was worried that Tim would find my approach off-putting but much to my surprise he played along.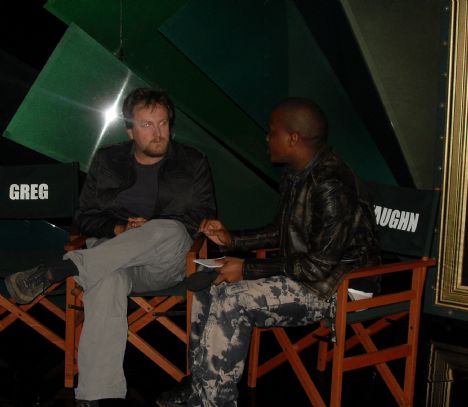 I was introduced to him by Mr Franco D'Onofrico and from the moment I shook his had I saw a man who is at the pinnacle of the future of this industry. Often people in his position tend to have an off-putting aura about them. I will not name names but as you all know, I was once a drama student and had aspirations to be an actor. I met a few directors in the business and let me just say; It was not a pleasant experience. In their defense the encounters happened on sets and that can be a stressful environment for a director - especially when the shoot isn't going well.
I sat down with Tim after the live broadcast for Class Act. The interview was going to be mainly about the show as he is currently directing it. The first thing that I noticed while watching the show and being in the company of the contenders was the pleasant nature with which everybody interacts with each other. At first it seemed a bit odd but as soon as I started talking to Tim I understood where the spirit comes from. Tim is the kind of person who encourages you to put your best foot forward without even saying much. He is open in a sense that, though his position affords him the excuse of being arrogant and dismissive, he is down to earth.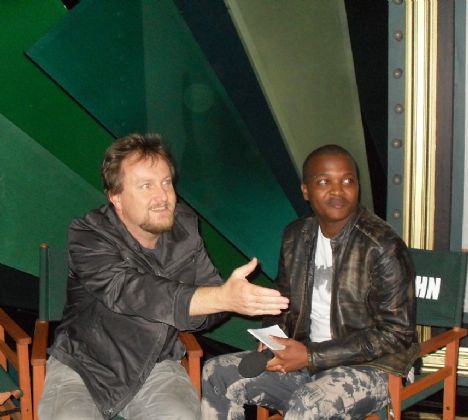 While watching the contenders' scenes during the episode I could see that he would encourage them to do better. He would give them tips to better their performances and those sentiments were echoed by the boys thanking him in all the commentary on their "scenes". With that in mind, I asked him if it was possible for him to remain unbiased while shooting the boys' scenes.
The boys are competing against each other and Tim as a director can see potential in an actor - even if their performance at the time is not that good, so: how does he then not push one contestant more than the others if he sees that he has it in him to do better? He responded by telling me that, each contestant gets 3 takes. Of course he will give the advice on how to do the scene but after those takes have been canned he cannot do much but move on to the next guy.
Ok, I get that but let's be frank ... do you have any favourites?
"Of course I do. Some of these guys are just as good as any professional actors out there. Some of them can just get out of this and get work out there. The thing here is that they have to convince the viewers that they can do this. It's all about the votes but I think some of these guys have it."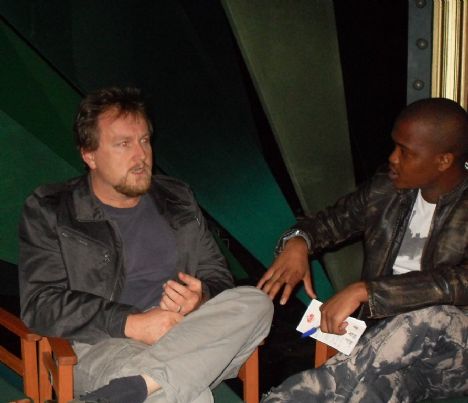 When he said that so earnestly (without the F word, he uses that a lot) I understood why the boys like him so much. On the COOL episode I sensed that there was some drama between him and Malusi. I didn't ask him about it because on this episode he had praised Malusi for his improvement thus highlighting the fact that what had happened the previous week was just to critisise Malusi objectively and his improvement is testament to that.
I know this sounds like I'm sucking up to him and you know what … I am. Yes people I am shamelessly sucking up to Tim Greene. Fortunately for someone like Tim, no-one can question your credibility if you only say nice things about him because he wears the honours so well. He is truly a treasure to this industry and a humble human being. His credits firmly solidify him as truly deserving of all the praise and accolades he has received. Most notably is his ground breaking strategy to get funding for a movie he was doing called Boy Called Twist.
In 2002, while trying to get finance for his first feature film, A Boy Called - an adaptation of Oliver Twist - he did what would forever be known as an innovation in South African film financing.
Upon realizing that he didn't have the budget to realize the dream of making this feature, he put out a call to 1000 investors who could each risk contributing a R1000 to the production of this film.
By 2003 he had raised and secured the R1m and a further R400 000 to the project. A milestone for our struggling film industry. The film premiered in 2004 in Capetown and in May 2005 was screened at the Cannes Film Festival.
The film featured real life street kids from Capetown and upon completion Tim organized an outdoor screening for all of Capetown's street kids. The film will also go down in history as a film with the longest list of associate producers as all 1000 investors were named on the credit list. Can't imagine having to sit in the cinema to read all those names.
For most South Africans though, Tim's name will be recognized in credit lists of show like Tsha Tsha, Hard Copy and Zero Tolerance. Look out for that name because if history is any indication the SABC will definitely repeat this shows many time in future.
It was indeed an honour and a privilege to have spent some time with Tim Greene and gotten to talk to the man who is a pioneer in our industry. If nothing else worth mentioning ever happens in my carrer as an entertainment commentator, at least I can look back at this moment and forever be grateful for the opportunity.