CLASS ACT: The Cool Episode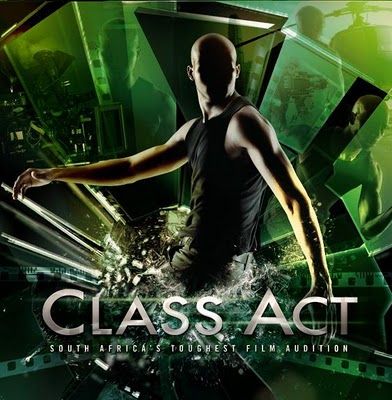 Mzansi Fo sho's latest reality tv show Class Act premiered with a live broadcast this past Saturday. I have to say I was a bit on the fence about the validity of such a show in Mzansi, given that our film industry can't even sustain the actors that we already have with viable leading roles. The idea that SA could have an actor of Hollywood's Will Smith and Bollywood's Shah Rukh Khan's audience pulling power seemed a bit over eager for me. Let's be honest SA audiences still prefer to spend their money on international stars than they do on our own talented stars. We already have leading ladies and men but unfortunately there is no platform for them to be as big as Angelinah and Brad, even if it meant just here and not internationally.
From the word go, it was very clear that the people behind this production know what they are doing and have a clear vision of what they want this show to be in the minds of SA viewers. Upon arrival I met Franco D'Onofrio, who was very helpful and nice. At about 18h15 we were ushered in to the studio where the live shoot where to take place. After the usual prep talk by some guy who I assume was the floor manager, the show started.
The Presenter
The show is presented by Kenneth Nkosi. Don't really know what to say about him. Kenny is one of those likeable characters. He is one of those people with a personality that can either draw you to him or irritate the *sh out of you. You either like the guy or you don't but one thing for you sure you can't miss him if he is in the room.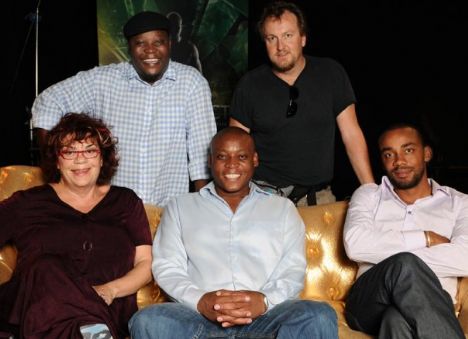 On his presenting of the show; I liked how he made the contestants comfortable as they were understandably nervous. That's one commendable thing about Kenneth he is really a people's person. Though not the most articulate of people, he handled the shoot very well albeit the few fluffs here and there. Not the finest execution but hopefully with more episodes coming he will find his footing. Live presenting is not easy so I forgive him.

The Judges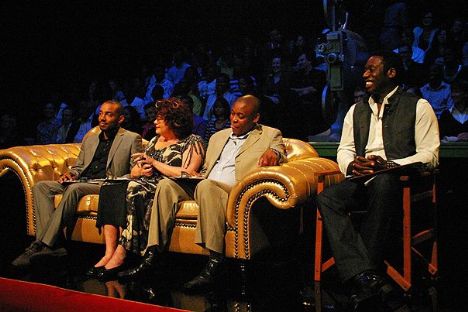 I have to say I didn't really agree with some of the comments the judges made about the contestants' performances. At some points some of their statements were a bit redundant. I chuckled at the comments by the judges that one of the contestants should lose his "ridiculous" American accent yet sitting on the judges' couch were
Tendeka Matatu
and guest judge
Hakeem Kae Kazim
with their heavy foreign accents. Funny, how Africans live overseas and develop an accent within a week and yet can't do the same when living in other African countries. Do as I say not as I do!! I do understand though that for the guys trying to break into the industry a phony accent could be a deterrent.
Then there is
Moonyeen Lee
, notably this country's leading actors agent; the women is a force to be reckoned with and she lives up to her reputation as a no nonsense professional women. She brings that "I aint yo mama and I tell it like it is" attitude to the judging panel superbly. To say the woman is a spit fire would be an understatement. Not that she is a star in a conventional sense on the word but I was in awe of her presence… and that doesn't happen very often with me. Much respect Ma'am!!

The Contestant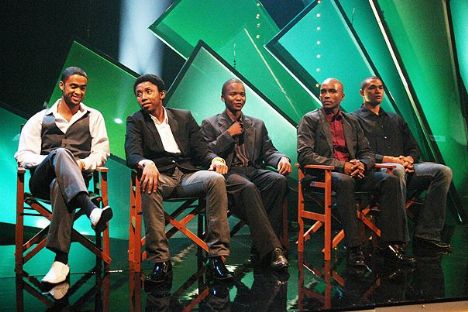 With the exception of
Muzi Clive
, judging the boys at face value they didn't really look like the "leading man" they hope to be. First thing that put me off was their dress code. Yes, being a leading man is not only about your acting ability. Image plays a vital role in one becoming a star that has pulling power. I would have thought that since the show is about making someone a STAR, they organizers would find a stylist to dress these guys for the show.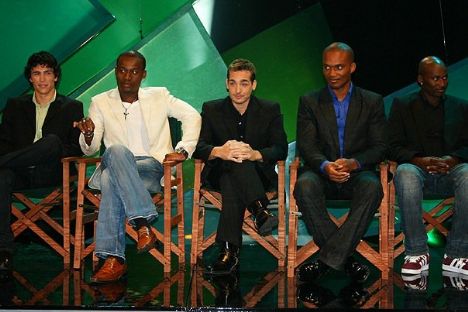 Some of them honestly looked like they were petrol attendants in borrowed suits. Danny, the Capetonian with a heavy coloured accent, adorned an ensemble that someone clearly failed to tell him was outdated, white shoes and belt on a guy are so 1990s unless you are from Limpopo. Brother, I'd ditch my friends if they let me go on tv dressed like that… and the episode was about being COOL. Nee maan broer!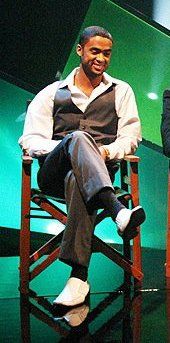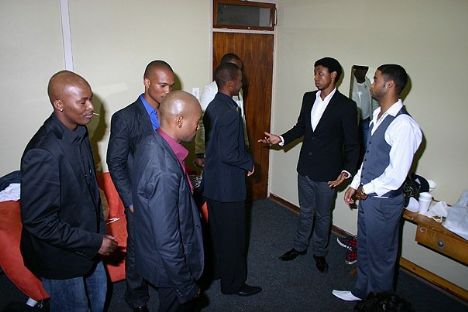 somebody get this boys a stylist... pronto!
The acting
I have to admit, with the assignment of the week some of the boys came out blazing. I was impressed by
Lungelo
,
Gregg
,
Sdumo
and
Muzi
's performances. Muzi gave a convincing performance and I totally concurred with the judges when they awarded him "
Class Act of the Week"
trophy thus giving him immunity from elimination next week. When I asked Vaughn who he thinks would win the competition if he himself doesn't win, he without missing a beat said Muzi. While on Vaughn, he didn't really shine on this episode but the guy has a great personality. He is dubbed as "the judges' choice" and I get why that is. He is very likeable and has a personality that would melt anybody and his good looks add on to his charm.
Muzi Clive: Class Act of the week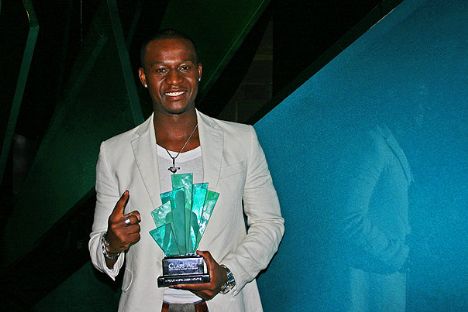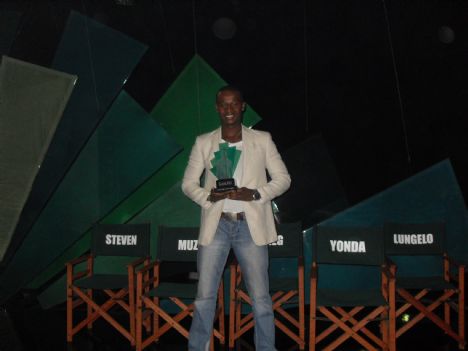 With shows like this one where the viewers vote, talent does tend to take a back seat when it comes to winning.
Muzi Clive
, however has all the elements that would make one a leading man. He dresses well (by the way, the choice on not wearing black like everybody else was a nice touch. It made you stand out) and exudes confidence without coming off as being arrogant. Juxtapose that to
Malusi Mbele
, who is good looking and has potential but has that arrogant flare about him. Sometimes the lines between confidence and arrogance can get blurred and maybe Malusi is just becoming a victim of misjudgement because of that. Of all the contestants Malusi was the only one who greeted everybody and engaged with almost anyone in his presence. Muzi on the other hand is just COOOOOL without even trying. The guys encapsulate what a leading man should be. It was clear in his performance that he understood the brief for the character and executed the assignment well.
I had a conversation with Muzi after the show
Our industry is not really that big in terms of opportunities in doing films, the soaps are the biggest audience pullers, so which soapie would like to work for?

Muzi: "Generations, it's big and I like how they tackle social issues in their storyline and they have good actors"

I know you like Denzel and Al Pacino but who is your favourite SA actor?

Muzi chuckles: "Sbusiso"

You mean Menzi Ngubane? Why am I not surprised?

Muzi coyly laughs; "he is really good"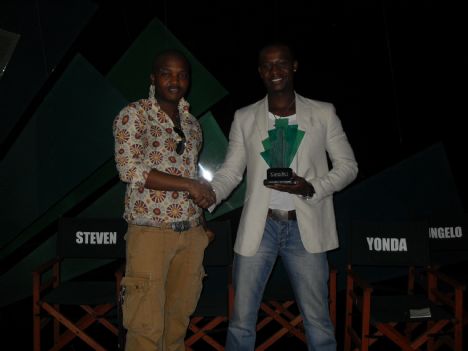 We talked a bit about the show and his plans for the future post Class Act. Throughout the conversation one thing stood out,
Muzi
is a
Leading Man
. He knows how to sell himself without being overbearing or phony. For that he gets the Blaque nod. Hopefully he won't lower bar this week because he has immunity. Consistency is very important and if he keeps that he will definitely be triumphant. Even if he doesn't win this competition, this brother will definitely have a future in this industry.
As for the show.....
Big ups to the production team. Great work and hopefully audiences will love it too. CURIOUS PICTURES does it again, excellent work!!!
This is the house the boys will call home during the duration of the show. Snazzzzzzy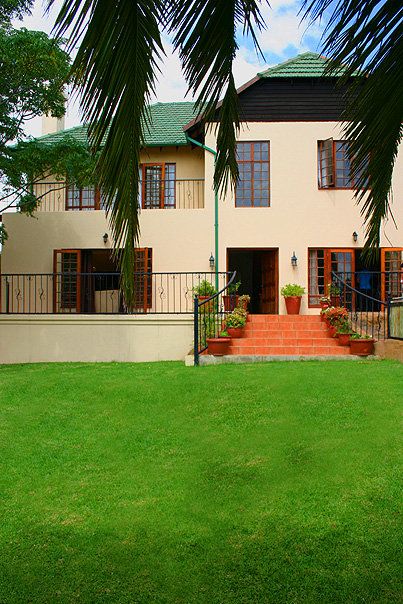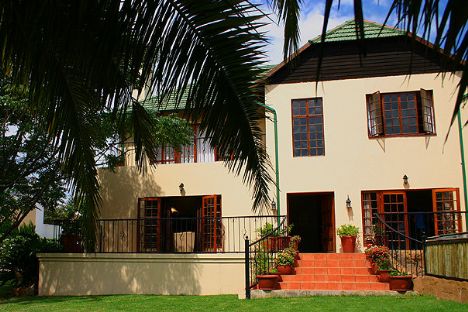 catch
CLASS ACT
on SABC 1 at 18h30
to vote for your Leading Man sms the name on the contestant to
34777