Kimora Lee Simmons' Laughs Off Retouched Photos Controversy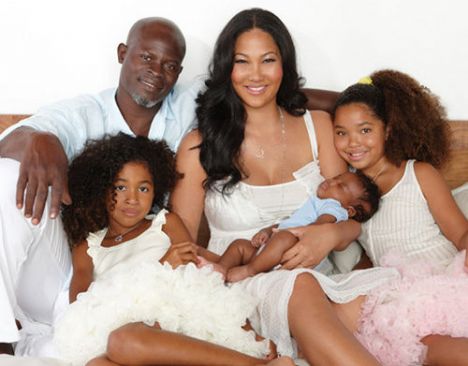 New addition to the Fab Lane
Fashion mogul/ former supermodel/reality tv star/wannabe author/ex Mrs Simmons/Mrs Djimon Hounsou (yes they are married though their marriage isnt legaly binding yet)… phew…
Kimora Lee Simmons
, debuted her latest frangrance campaign yesterday and set the fashion world and bloggers on a frenzy. Life on the Fab Lane, star's latest fragrance "
Dare Me
" hit the stores with a campaign that left some people heaving with discontent for the fabulous diva. And what was Ms Fabulosity's crime, you may ask? Well the campaign features pictures of a noticeably slimmer Kimora. The woman just had a baby less than a year ago and was photographed this January looking "fully figured" as you would expect a new mom to look like. Not that we don't believe in the magic of exercise and starving yourself to get that Nicole Richie look but nobody was buying the fact that she could have gone to a size 0 that fast. It is very clear that the photos were "extensively" retouched.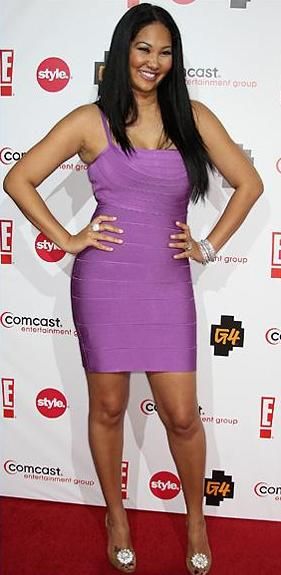 Photographed in January
Probed about the issue by one her fans on Twitter, the mogul defused the whole thing by laughing it off, admitting that the photos were indeed retouched and went on to give some blah blah blah speech about why there is nothing wrong with it. That's a bit of a back track as Kimora has been quoted on many occasions saying that women should not aspire to the skinny image propaganda. She was also one of the people who vilified the tabloids for blasting Tyra about her infamous fat pics. This is a bit of a contradiction that bothers on hypocrisy for her... Ms Thang, you can't tell girls to be happy with their bodies and then you go and alter your look to sell them products. Personally I couldn't care less whether she's a size 2 or whatever size, I still think she is one of the most formidable businesswoman of our time.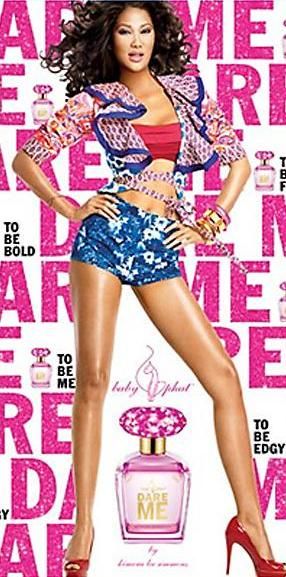 The ad picture
Say what you will about celebs and photoshop but we are all slaves to societal pressure one way or the other. We are quick to demonise celebrities who aspire to the skinny image perpetuated by the media and yet we still buy into it. We say women should embrace their curves but we scorn the likes Oprah for putting on weight. You can never please everybody. I like how Kimora didn't try to deny it (even though it's obvious) unlike Demi Moore and other stars who always tell woman to be happy with their appearances when they themselves aren't and would not admit to having cosmetic surgeries and retouching their photos.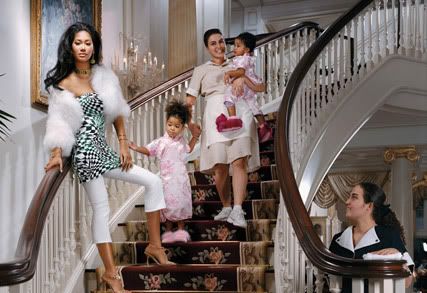 The controversial Baby Phat ad
Kimora is no stranger to controversy concerning campaigns. While promoting her hugely successful label, Baby Phat, she received a lot of flack for the depictions of her household help… ok MAIDS… in her print ads. A lot of black people thought she had taken the whole flaunting your bling a bit too. Some people, many of which black, felt the photos were distasteful, pompous and downright demeaning to the maids. To be frank, though, Kimora has never been one to mince her words when it comes to her success and fabulous lifestyle. That is what makes her who she is. Her show was popular because even those people who claimed to hate her couldn't resist being envious of her rags-to-riches quantum leap. Yes, most of her rise to the throne of "Queen of Bling" was aided by her marriage to Russell Simmons but there is no denying the fact that the woman has come into her own and is now a star in her own right.