A Chat With Nonhle Thema (Tv Presenter)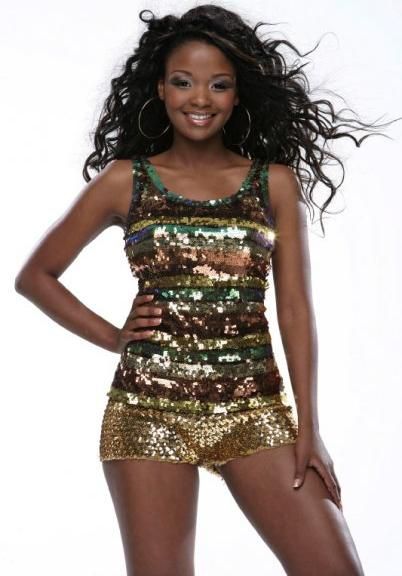 A facebook friend wrote in his status;
"I remember when I was a Jimmy comes to Joburg a few years ago, I used to go crazy whenever I would see a South African celeb... Now I just think they are all broke ass niggers hussling their way through life!".
Upon reading the facebook statement I replied
"the perception that this industry cannot feed you it's false. The problem is that a lot of this guys live beyond their means. U fans put them on pedestals and expect them to live up to that and they feel the pressure. Getting R8000 to shoot a commercial in 2hrs it's a lot of money but don't go buying a R300 000 car when you have R400000 in the bank. Where are you gonna park that car, in Brixton or some backroom in Soweto?"
He said
"Look phil, an average man on the street would thnk that becz you are on tv you have to be rolling in it! These people are public figures and they allow us to put them on these pedestels. I am sorry i disagree. The arts industry in South africa is not paying the artists the money they deserve, the government is not doing anythng to help either. This is the reason I dnt like South Africa. Our artists are suffering and to be quiet honest we need their talents to entertain us. Mara they not making any money.

"
Then I wrote:
lol, why should the government subsidise the industry when South Africans arent interested in spending money on local content. The Government can pour millions into the ARTS (dnt knw why they would or should) but unless South African audiences begin to support our artist as much as they do international stars, those millions from the gorv will be be a waste of taxpayers' money.


Back to poor celebs: Believe you me, if DJ Sbu can afford to be a profitable brand like he is so can anyone. SA artists arent interested in building themselves as brands, all they want is to be known and make babies all over the country. I had an interview with Nonhle today. That girl is going places because she has learnt that she is not just a name in Sunday World or Facebook, she is a brand and she is working on making that a viable profitable entity for her.



Whats stopping the "celebs" that you knw from doing the same? I will tell you: They are just in this for the fame and not the craft and prospect of building a viable self sustaining career. They get excited about attending every party under the sun while the likes of Nonhle are getting international endorsement deals.
I met a remarkable young South African woman. At first glance the pintsized starlet looks like your typical Joburg North tv girl but as soon as you start talking to her you realize that there is more to this pretty girl with a weave. There is nothing typical about
Nonhle Thema
. Not only is she one of the most recognizable faces in Mzansi she is also one of the most influential people in this country. You probably thinking, "what the hell is Phil on about?". When Nonhle is not presenting
V-Entertainment
on
Vuzu
she is travelling the country as Dark & Lovely's Brand Ambassodor, mentoring and giving motivational talks to young South Africans. What I found interesting about this is that, the
Dark & Lovely
brand has never done this with any of the other international celebrities before. From what I have gathered Nonhle insisted on not just being a face with no voice for the brand but a face that could actually make a difference in this country.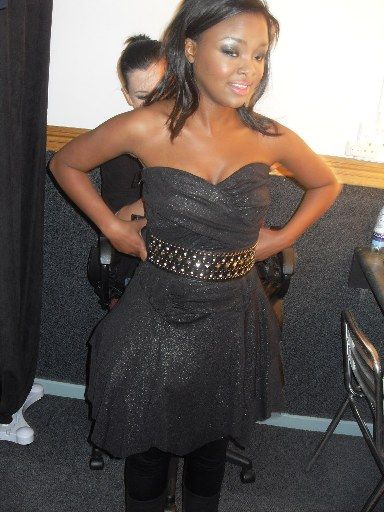 I got to Vuzu studios and went straight to the makeup room where Nonhle was getting prepped for the show. As with every interview I have done I expected her to lead the way in terms of the connection between us … and did she ever. Nonhle is the kinda girl that is comfortable in her own skin. She knows how use what she has to engage other people. Dare I say it; she doesn't have to try very hard with those semi-dimpled cheeks and bright smile. During the time that I spent with her in that makeup room some of her colleagues came over and she was very bubbly and chatty with everyone. Nonhle is clearly liked by her colleagues and it's not hard to see why because 20minutes after meeting her, she was already holding my hand and talking to me like we have been best friends for ages.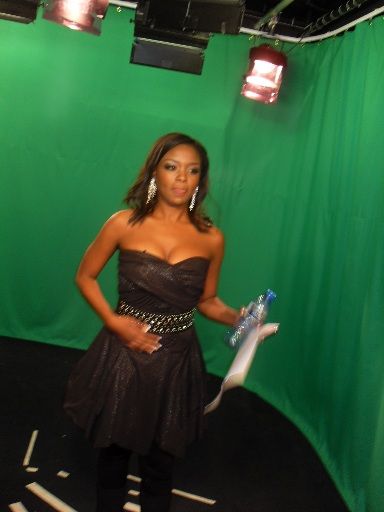 A former marketing student at Allenby and beauty pageant girl , Nonhle didn't just come out of the woodwork and become a household name. With stories about how she used to work as a perfume girl in retail stores and doing promotions in Eastgate mall, hers is a tale that would send biographers into frenzy. It's obvious that Nonhle is no
Cinderella
and there is no "rags to riches" story to muse over but the girl has paid her dues. She told me a story of how she used to love watching
Channel O
and wanted to be part of it. Unlike most dreamers who dream and wait for somebody else to make those dreams a reality, she went out there and knocked on doors at Channel O. Nothing came off her tenacious actions but after months she finally got word that the Channel was looking for presenters. She auditioned, went for 4 call backs and was eventually hired then a star was born. She credits the Channel for having taught her a lot about the industry and having allowed her to grow as a person.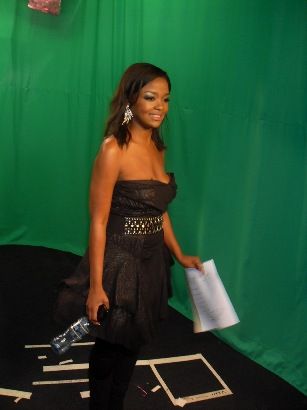 I was curious to know why she left
O-Access
and she candidly told me that the time had come for her to "leave the room while everyone is still there". The move to Vuzu was a stepping stone for her to venture into bigger things. She now has her own company and can put producer next to her name. Though she enjoyed seeing the world and meeting all the big stars of the world she knew that eventually it will all end and she didn't want to be left with just memories of what she once was when that time came. I thought that was very wise and brave of her to want to spread her wings like that. She let me in on some info that she will be hosting a new show on Supersport with KB, Elana and Cindy Nel about the World Cup festivities.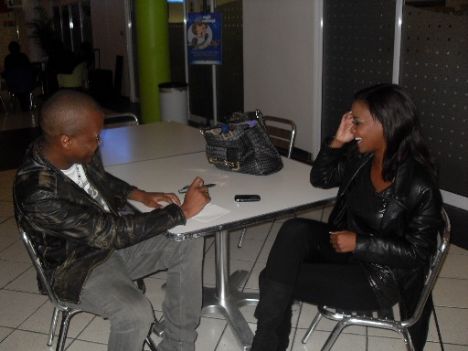 Watching her doing her thing live in that studio was beautiful, not in a superficial way, it was beautiful to see a sweet girl who dreamed big having a good time living out her dream. As I watched her I was inspired, not only by her success but by the certainty in my heart that this is only the beginning of what this girl is destined to be. Forget about the fact that she wears R2000 dresses on
Vuzu
and rubs shoulders with entertainment royalty, this girl is just special not by virtue of the absurd like being on tv but by having been raised right. She still talks about her love for God, her childhood friends that she is still with and family with such earnest one almost forgets that she is
NONHLE THEMA
and that's what sets her apart from a lot of celebrities. I found myself lost in this magical aura, that is Nonhle. She laughed… listened… advised … and eventually won my admiration. By the end of the evening together she asked me if I needed a ride home. Wait.. I am here to interview her and she is offering me a ride home!!! When I assured her that I was sorted with a ride she insisted on walking me to the car. As we walked out and she is holding on to me like she knows me, I knew that I have had one of those rare moments in life when you meet a beautiful human being who just inspires you to be a better human being yourself. This was indeed a pleasure. I went to Vuzu studio to chat with a star but I left with having made a new friend.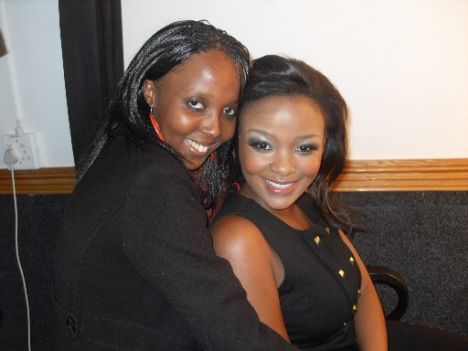 There is room to succeed in this industry. Yes our stars don't earn millions but if there is one lesson to be learnt from people like Nonhle is that when you get into this business, you need to set your priorities right. Nonhle is not on every guest list at random parties and she rarely makes the Sunday papers. When you see her or her name it's when it's relevant for you to see or read about her. She understands that for her to have a sustainable career she needs to protect her name as a
BRAND
. If many of our celebs would learn from people like her then my facebook friend and many who think like him would not think our industry is doomed and celebs are
"all broke ass niggers hussling their way through life"

Nonhle with the stars