Class Act: And Then They Were Five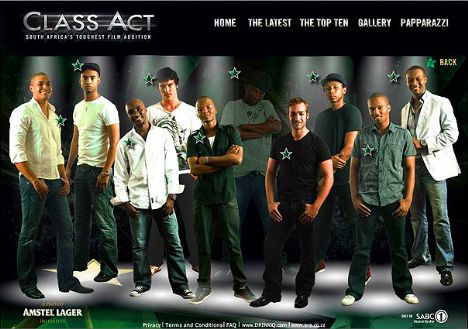 So Amstel Class Act went from 40km/h to a 120km/h in a flash. In the past couple of weeks the show's facebook page ranked in some surprising traffic and from what I hear the show is now in the top 10 of the shows watched in it's time slot.
Now that's what I was expecting to see. The show is finally taking it's rightful place at the top and I for one cannot be more happier. I am very excited to see that South Africans are beginning to recognize the importance of such a show and the fact that it's bringing some zest back into this slowly dying industry (in terms of fun).
There hasn't really been anything exciting on our television screens of late. No offense to soccer lovers but I was getting a bit tired of seeing the FIFA logo every time I turned on my tv. It's refreshing to see something fun on our screens that has nothing to do with soccer.
Let's not forget though that this is a competition and only one of these guys can take the price and the honour of being named Amstel Class Act Leading Man. As the number of contestant dwindle the competition gets more and more interesting. Who will be going home tomorrow night?
At this stage Muzi is looking pretty cozy at the top of the popularity log. With performances like what he gooi'ed last week, he looks set to continue to win some votes from the fans. The fact that the brother always looks like he has just walk out of a magazine cover doesn't hurt either.
Gregg is safe from elimination tomorrow as he won immunity by being named by the judges as Class Act of The Week. Looking at the Class Act Facebook page, he is really working the PR magic. He is by far the most active contestant on the site. He is pleading and engaging with fans and hopefully that will win him some votes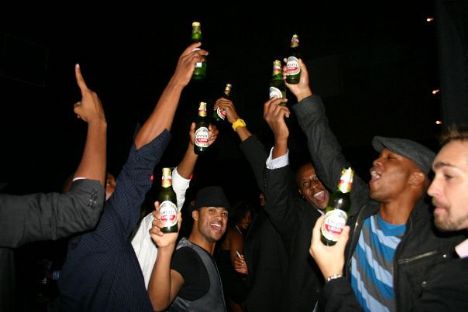 While on the PR issue, MALUSI seems to be doing his best to gunner himself some more votes too. After that dismal performance last week, he definitely needs some huge numbers on the vote line or he is definitely going home.
On the other hand he has survived being eliminated for past weeks even though the judges have given him a lot of flack. To a point where it appeared as if they were picking on him and one can only assume that he got the sympathy votes from the viewers who felt the same way too.
There is no denying that he has brought some comic relief in the show with his blow-by-blow antics with the judges. It would be really interesting if he survives this weeks elimination. I would be fascinated to see how far he would go after that.
Imagine if he had to win this… the rest of the guys wouldn't see that coming. That would be the biggest coup in SA television history. He would go down in history as the underdog who prevailed against the odds and made it to the top.
Pretty boy Yonda is holding on steadily in his position. Though his acting is nothing to rave about, he does have that Will Smith thing about him that would definitely win him some loyal fans for a while.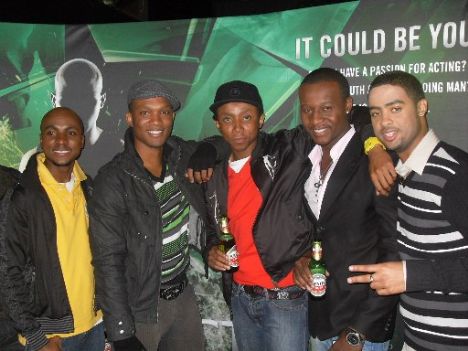 Sdumo continues to impress with his strong performances but really doesn't have anything else to offer to the fans. If this was just a competition about acting prowess he would definitely be a front runner as he has been consistence with his deliverance from the very first episode.
It doesn't seem fair but being a leading man is more than just acting, you gotta win fans over with other "things" as well. Frivolous as it may be, looks do play a vital role in getting those fans to buy tickets of your movies.
Sdumo is not a bad looking guys but he doesn't really come across as the "red carpet" kinda dude. Would that hurt his chances? If Muzi and Sdumo were the 2 last men standing at the end of this .,. who would you vote for? "Denzel" vs "Forest Whitaker" kinda scenario.
And then there's Danny… now that he has ditched that cape flats pimp look he adorned on the first episode will he be able to charm some ladies for their votes? The funny man has pulled off some surprisingly good performances lately even Tim was impressed.
I am a bit indifferent when it comes to Danny. Half of the time I can't hear what he is saying with his heavy accent but as soon as I pay attention I am shocked by his smartness and candor. I think given the right opportunities he would be a huge success, in that he is able to humble himself, take advice and criticism in his stride.
That's a very commendable trait in a human being. In terms of the show, I think he sometimes fades in the background. You could actually forget to take him seriously if you don't pay too much attention to his underlying wit and talent.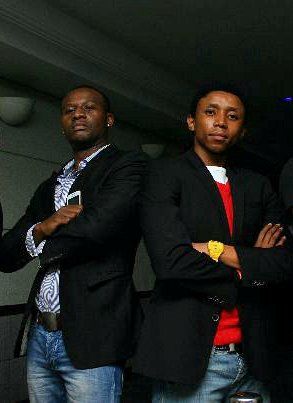 The boys are having fun. I am excited to see how all this unfolds as the weeks linger on. In true SA style the Class Act team has pulled out all the stops just in the last minutes.
Judging my recent developments the next episodes and behind the scenes events will be something to talk about for quiet some time.
So bloggers tune in tomorrow night at 18h30 on SABC 1 to see the drama unfold and pray that Kenny Makhenzo doesn't fluff his lines … lol… still love you bro, heard some good things about you.