Bafana Bafana Vs France, I Felt It... FINALLY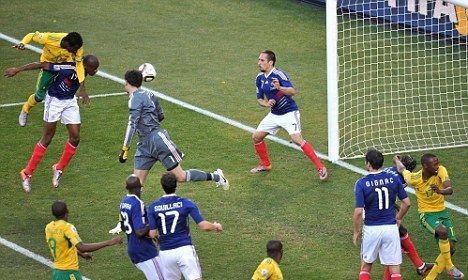 We knew it would not happen and yet we held on to the hope of a miracle. 45 minutes into the game it seemed possible that the stuff of mammoth improbability could actually become probable. Could it be? Can Bafana Bafana re-write the history books? We have done it with our politics so why couldn't we with sports? Well for the first half of the Bafana Vs France match that dream looked very attainable. Wait… what the heck was I doing watching soccer?
I have made no secret of the fact that I have reservations about us hosting the world cup. On many occasions I have also made it clear that I am indifferent to the game of football. For me I'd rather torture myself by reading a crappy novel than spend 90min watching grown man chasing a ball and getting paid exuberant amount of money for it. I was baffled… no shocked… to find out just yesterday that a few days ago AIDS activists marched to the US consulate to beg the Obama Administration to provide more health parcels for the treatment, care and prevention for Malaria, TB and Aids. I found it appalling that we cannot "afford" to provide this to our people and yet we are more than happy to blow millions to appease the international soccer lovers community.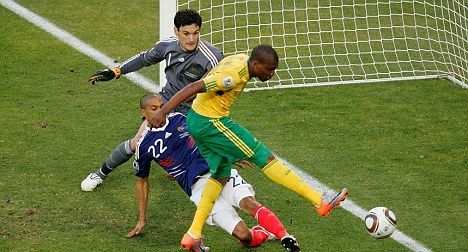 However, even I was not immune to the feeling of pride that swept the nation during the
Bafana-France
match. What is more poignant here is not that our boys managed to beat one of the highest ranked teams in the world, much to the surprise of many skeptics, but the fact that what happened on that pitch transcended the game of soccer. That game was something special. It unequivocally solidified the notion that support from your own people can make one perform "miracles". South Africans have been behind Bafana all the way and their hunger for success and to make everybody proud clearly resonated in their performance in that game. Soccer fan or not, World Cup supporter or not, if you are a believer in the power of love, you definitely could not remain blaze' to the magnitude of what the win for Bafana meant.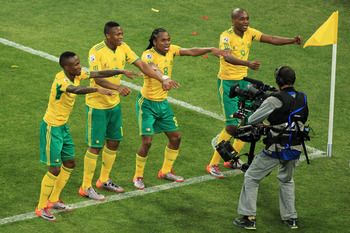 Yes people I,
Phil Blaqueboi Mphela
, am feeling it. A bit too late I will admit but still relevant nonetheless. I am proud of our boys and our entire nation for standing behind our team. All I can hope for now is for us to take the same spirit after all our guests leave and apply that in our everyday lives. Imagine if our classrooms, our homes and our assembly house could have the same comradery we had while supporting Bafana. That would indeed make Mzansi the epitome of a nation bound together by common love for their country and the envy of all nations of the world. If teachers in our classrooms stopped haunting kids who are a little slow to learn but give them the support they need, parents stop critisising their kids all the time if they don't live up to the standards parents set but instead give the kids the support they need to make mistakes with the guidance that enables them to know that they are not failures if they don't measure up then we would definitely build a much better society that will be free of the ills plaguing our nation.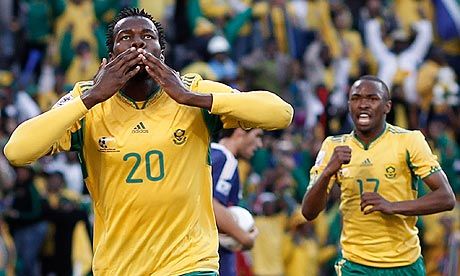 Working together for a better South Africa should not just be a tag line for election campaigns. We have proven that when it needs be we can forget our differences and stand together as one for a common goal. If we are able to say to our boys; "Well done. You could have done better but well done for giving it your best" why then can't we do the same with those in our civil society who are doing their best everyday but lack the support we should be giving them? This doesn't mean we should not hold our government accountable, we definitely should but I think we should come out of this World Cup with an appreciation of some of the effort honest people in our civil services and government departments are making to make this a great country to live in.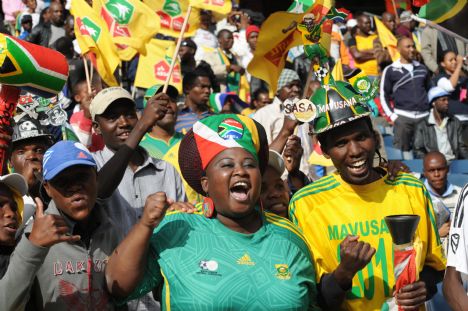 Do not get me wrong here. My views on the shortcoming of our government and the unnecessary splurge in trying to keep
FIFA
happy have not change. If anything, they have actually gotten more heartrending and I will continue to give the voiceless and poor in our society an opportunity for their plight to be heard with my platform here. This event has proven that we can afford to feed our people, educate our kids and medicate sick South Africans. Let's rally behind endeavours that seek to see this services being provided to our people with the same panache and drive we had whilst supporting Bafana.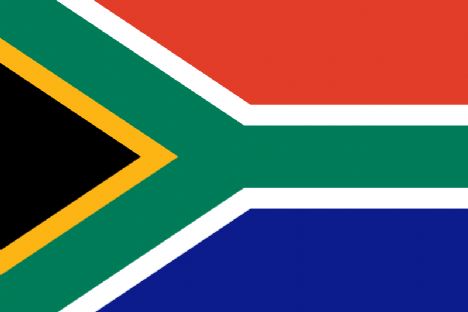 Again
, I have never been more proud to be a South African than I am in this moment. Could this be the rebirth of the South Africa that Tambo, Sobukwe, Lithuli, Mandela, and many others who gave their lives to the struggle fought for? One thing that's certain to me though is the reassurance I now have that the "rainbow nation" does still exist in this so called Dark Continent. Eish then again maybe I ought not to get too carried away in this euphoria. Who knows what the Malemas of this nation are cooking up in their current absentia from the spotlight? These attention seekers might just emerge from their hibernation with more vile and divisive political jargon… *sigh*.