A Chat With Siphiwe Hlabangane (Actor)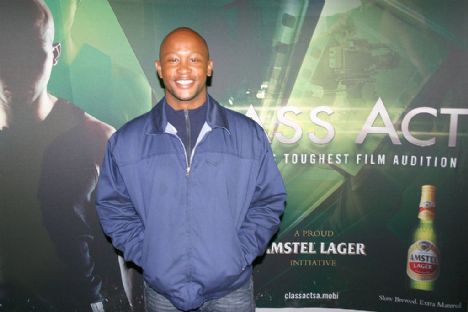 Mention the name
Siphiwe Hlabangane
and most people would most likely not know who that is. I didn't. However mention Kolo Modise and you instantly get a reaction from somebody. I met Simphiwe at one of the Class Act shoots and I was enthralled by his passion and very opinionated nature when it comes to the arts. This is a man who clearly cares about his craft. Since he just happened to be there and we had never really met before I asked him if we can continue our "chat" at a more opportune time. That time became this past Thursday at Campus Square, Newscafe.
Born in Pimville in 1984, Siphiwe is far removed from the township regular oke he tried so desperately to sell to me. Firstly, once he starts talking you immediately get the hint that he definitely did not go to "welfare" schools. He has a confidence that has probably gotten him out of a bind once or twice in his life. He is articulate, self assured and very ambitious. Asked about his childhood, he is quick to reassure me that he grew up like any other child ekasi and credits his parents for giving him the freedom to explore his artistic side. Surprisingly though, he confesses that he has been known to shed a tear or two when his heart has been broken. This gentle side of him is apparently what made him the family's favourite child. A man who is comfortable enough with his masculinity that he doesn't mind letting the world know that he cries when nature calls him to, interesting.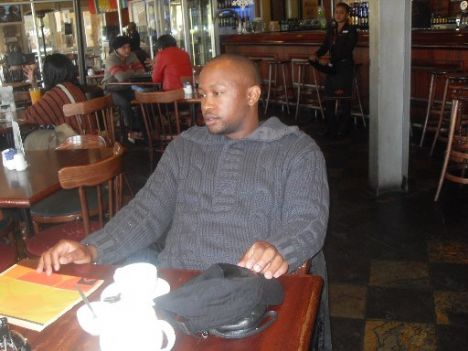 Simphiwe
is a product of
National School of Arts
and post that he was involved in a lot of theatre productions such as Les Liasons Dangereuses-2003; Rosencrantz and Guildenstern are dead-2005; Nongogo-2005; The Beauty of Us-2005 (a self-written play); Antony and Cleopatra-2006; and The Meeting-2007. It's his television work though that has brought him prominence in the industry with credits on shows like Yizo Yizo 2 (2001), Mthunzini.com (2005), Muvhango (2004-2007), Egoli (2008) and Konsternassie Oppie Stasie (2009). Currently he can be seen in the Castle Lager advert where he plays one of Vuyo's friends and he is also a presenter on SABC's Kaelo.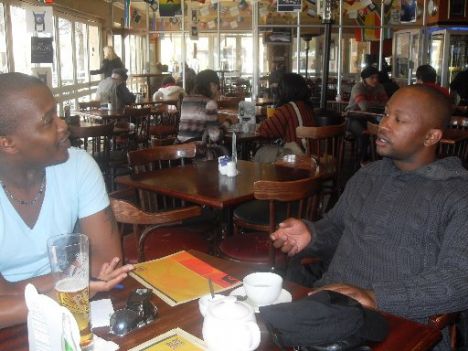 With the professional talk out of the way I probed him about his personal life. To my surprise he was very candid about his past. He boldly confesses that he went through a period where he could not let a skirt pass without having been acquainted with his zip. Like many young men his age he experimented a lot with sex and women. Thankfully though those days are over, he claims. These days he is happy to play house with his girlfriend/publicist of 4 years. Without any hesitation he tells me that he is actually
ready to seal the dea
l. Though I was not sold at first on this "reformed sinner" thing , I fell hard when he told me about fatherhood and his aspiration to be the best BLACK father he can be.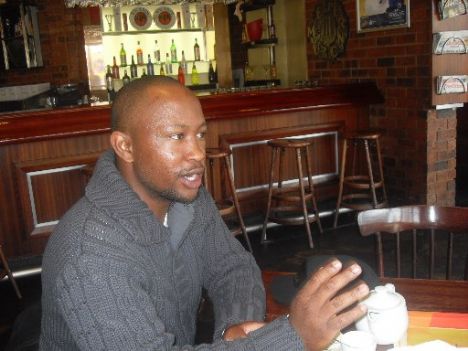 Why emphasis on black? Well Siphiwe, who happens to be passionate about the restoration of the black family, is of the opinion that black men need to step up a notch when it comes to raising kids. For him he believes that a child needs both parents to have a fulfilled childhood that would enable him/her to become a better human being in turn. Simphiwe is also very vocal about his concerns about education in our townships. He shared that though his ART is what pays the bills and what generally makes him happy, he would love for part of his legacy through the recognition he gets with his arts to be a man who made a difference in the education of our kids.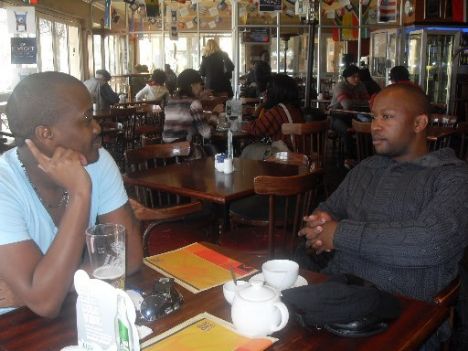 During his time at Muvhango he was involved in an accident that could have ended his career or worse have been fatal. People always say that a near death experience always makes one want to live a much more fulfilling life; if that's the case perhaps Simphiwe is going through that. I for one am happy that atleast one black brother is not consumed by the lures of the BLING GENERATIONS but wants to actually have a positive impact in our society. He realizes that he has a voice and with that voice he can do more than just charm the fairer sex. I'm told that during his spare time he lectures post-graduation students at the University of Johannesburg under the auspices of the
Thusanani Programme
to help them find or create employment. I am not big on role models but if there should ever be one I could recommend to my little brothers and sisters, Siphiwe would be an ideal candidate.
Even with a murky past he is man enough to acknowledge his past wayward ways and has the courage to say; I was an obnoxious bedhoping idiot but I have grown now and understand that there is more to life. On his opinion about women, he chuckles and tells me "Women made me accountable" and with that a little halo shines around his head… lol.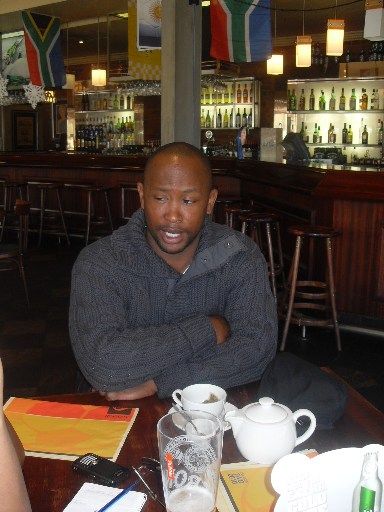 The conversation flows for a couple of hours with most of the stuff said being off the record. Out of spending all that time with Simphiwe I can't help but root for him to succeed in life so that all his ambitions could culminate into something worthwhile as his is not about personal enrichment but sharing opportunities with others. I loved his honesty even with his charitable future plans he was quick to inform me that he plans to help others but also be able to provide for his family… there goes that HALO :). With the education project he is planning, though it will be to help young South Africans, it will also be a viable business for him that should enable him to continue feeding his family when gig don't come his way. Smart move, I think.
What's the one thing you would like people to know about you?
"I would love people to know my name."
((Laughs))
"I am not Kolo Modise … oh yah and the other thing, some people call me Vuyo and I am not even playing Vuyo in that advert"
Ok Mzansi, remember his name. It's
Siphiwe Hlabangane
and he is not Sotho but Zulu as that seems to be the other misconception people have about him.