A Chat With Tshepo Howza Mosese
Firstly let me clear up something very important. I have been getting a lot of offers from Publicists and PR companies to come and cover their shows and clients. I have build a platform on my blog to highlight the work of people that I personally deem worthy of getting some recognition for their work and the positive image that is inspiring to their fans. This was a conscious decision on my part as I felt that people who inspire me as a person would have the same effect to like minded people who read Blaque's Korner. I can easily try and get as many celebs on my blogs and pose in pictures with them but at the end of the day that would have no meaning whatsoever to the kind of audience I want to appeal to.
I appreaciate that people are recognizing my work and trust me. I am humbled by the positive respond that comes with such recognition however I need to protect the vision I have for this blog and my name. There are many more reputable publications that can have celebs on their pages and sell more copies furthermore there are other blogs on the internet that would be happy to sell themselves off as gossip hype chasing platforms. Blaque's Korner is not about that. I have had to decline offers to feature certain people or shows on my blog as I do not feel they will serve my vision better. This blog for me is about people that I would meet, write about and have my readers be inspired by them. When I decline to cover your event or client's work it's not because I think I am big. It's only because I don't think I can do anything with the interview that I am going to get from being there or meeting that particular celeb.
-------o0o--------
I got an invitation from the Public Relations Manager at
Toxmedia Communications
. She asked me if I would be interested in coming to a shoot for their programme called
Big Up
presented by
Tshepo Howza Mosese
. I immediately said yes. What prompted the instant response was the brief that I got about the show. The fact that one of my favourite tv personalities in Mzansi was the presenter was an added bonus. Last week I went to Saxonwold to watch them shoot a music video that will be featured on the show and have a chat with Howza.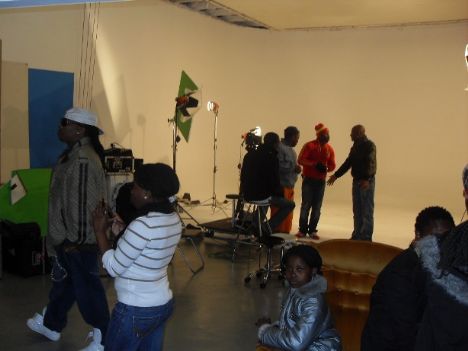 The celeb world in Mzansi, as we all know, carries no weight when you peal through the façade. When it comes to Howza though, this title carries a whole new meaning. He is not a celeb in the conventional meaning of the term; he instead wears this title with the humility and panache only expected from the likes of Brad Pitt. The moment you get to meet Tshepo you are greeted with a nonchalant look is soon followed by a grin which instantly erases any preconceived notions you might have of who this guy is. Is he a plain book trying to be an enigma or just playing off on the celeb thing? I had to find out.
I sat down with him hoping to get to know him beyond the Mr Goody Goody image that seem to have been is trademark since he burst into the limelight few years ago when he was in Generations. Trying to catch him off guard, I began by asking him about his work and his involvement with the show hoping to let him relax so that I can have an honest answer when I ask him about personal stuff. Afterall that's what I am most interested in, we all know what this celebs do but who are they behind those public personas.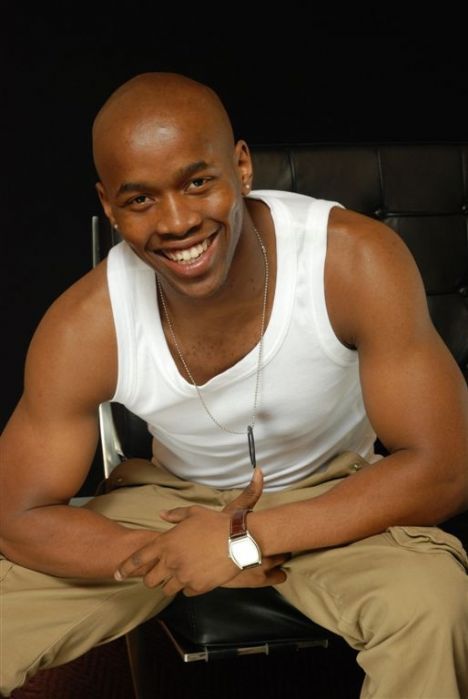 Born in Soweto, the 26 year old is a successful entertainer with a career that started with him being a member of two kwaito groups,
Gunpowder
and
Blackjack
. His creativity and artistic prowess afforded him the opportunity to be featured in well known artists' such as Amu, Spikiri and Bougaluv's hit albumns. More poignant to his rise to fame was when he performed alongside international superstar
Will Smith
at the 46664 concert in George. This kasi "Jack of all Traits" is also an actor who gained national fame as Adam on Generations and has presented the multi award winning show Big Ups on two seasons already.
Ok he is an actor, a musician, heartthrob, etc… BUT who is Tshepo from Howza.
There is this good boy guy image that is synonymous with your name. Was that a conscious decision that you made when you got into the industry to project that image?
To be honest… yes. I knew that as a guy from ekasi a lot of young people will be looking up to me. I had to make a choice as to whether I want to push the more popular image out there of being "the bad boy" or just be true to myself.
Wait, so are you saying that the "good boy thing" is an orchestrated image that you …
He interrupts
...that's not what I am saying. The bad boy thing has no longevity. I mean, you will get attention for a while but if you love what you do and want to be respected for the work you produce you don't have to rely on popular images. I am an entertainer and that should be what I am known for not some stunts I pull to get noticed.
At this stage of the conversation I find myself being sold on Mr Nice Guy. I also start noticing the confidence that he exudes when he is talking to me. He makes eye contact everytime he answers a question and his posture tells me that this is a guy who is comfortable in his own skin.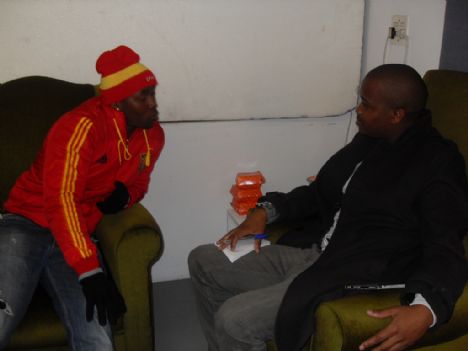 You are a married man. How do you and your wife keep your marriage out of the glare of the public when both of you are well known personalities in Mzansi?
It's very simple. My wife and I had our priorities set straight from the on set. We know that because of what we do people will always want to pry into our personal stuff but we just try and keep that private. We don't want to live our lives like that… in the papers and all that. What happens in our home is between the two of us and we have control over what we allow other people to poke into. The media always take what you give them. If you put yourself and your business out there of course they are gonna take that and run with it.
Ok bro, I need a scoop here; so are you and Salamina planning on having little tots anytime soon?
He laughs
I am not telling you that but all I can say is; when the time is right… maybe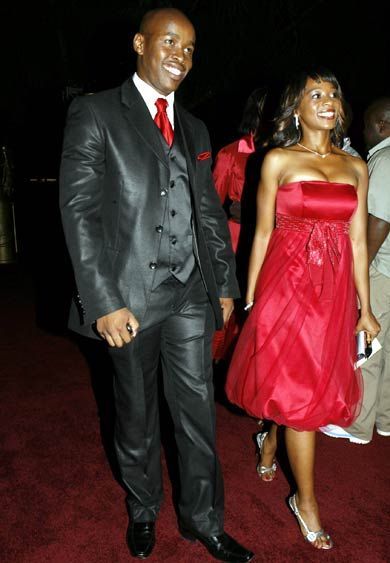 Ok fair enough. I am curious though, don't you two ever find yourself competing with each other?
what do you mean? My wife and I do different things from each other.
You are both actors…
"yes but for me music is my passion. Do not get me wrong. I love doing both but music is what got me into the industry. I love doing that and will always push that if the acting thing doesn't work out. I don't have to compete with my wife. I am proud of my wife and believe she is proud of my work too. I can say we support each other and don't see each other as "celebrities" but just as a couple. Once you take that out of the picture you are able to appreciate each other on a an equal spectrum"
Talking about music, what exactly are you… are you a kwaito or hip hop artist?
You know, I get asked that a lot. These days when you start having two lines in your song that rhymes you are called uMrapper. I am a versatile artist but my roots are in kwaito. I do gooi rhymes here and there but to me it's all about fusing the two genres. As an artist you have to grow and evolve. You can only do that if you are able to adapt your music to what your audience likes without losing your sound the authenticity of the music.
I continued to talk to Howza about his future plans and his involvement in the show. He explained his spirituality and how that has molded him into being a better human being. With myself not being the church going clappy clappy type I found it refreshing that he doesn't think his beliefs make him better than anybody else and does not impose it on his fans. I am happy that his good personality and well grounded attitude has made him a positive role model to his fans. Many of his fans have been supporting him even during his darkest hour when he made his struggle with diabetes public. I am proud that he took that sad situation in his life and turned it into an opportunity to give back to his fans and community. Howza is an ambassador for SA Diabetes Awareness.
I have to be honest. Whilst talking to him I noticed that though he seems to still have the same physique that has made admirers drool at the sight of him, he did look a bit "wornout". His skin looked darker and his eyes were sickly looking. I just took that as the toll his diabetes may have taken from him. His cheerfulness does however make up for any that. I do not know anything about diabetes but hopefully he is coping well with it and if it's really affecting his looks, then I am confident that with his positive look on life and talent he can still be a force to be reckoned with in this business with or without the heartthrob tag.
I actually had to write only the highlight points of our chat otherwise this article would be too long.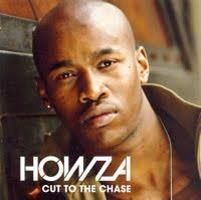 Big Up to
Tshepo Howza Mosese
. With our fallen hero Zola in hiatus, Mzansi could use a positive role model like him. He is by far one of the few celebs I have had the pleasure to chat with who seem genuinely nice. I liked that he opened up to me because it just makes what I do so much easy and it's always inspiring to have to say to you guys that; yes this person is as nice as you think he/she is.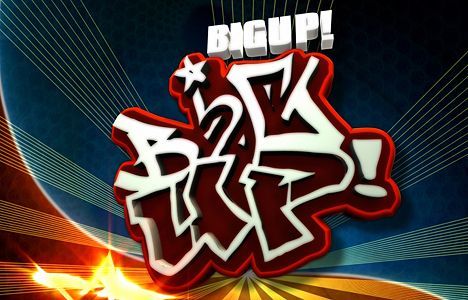 Catch
Big Up
on SABC 1 every Sunday at Midday
Thanks to Doreen Molefe and everybody at Toxmedia Communications for the invite.
NB: Howza uses a lot of kasi lingo which I can not write down so I had to restructure some of the lines in his comments the best way I understood his response :)

Don't worry I didn't change anything, I just cleaned it up. lol