Feather Award 2010: Oh no Moments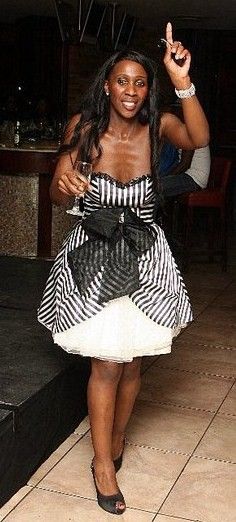 I was about to wrap my shoot at the Feathers when Bongi Alexandra (that's the girl who called Penny Lebyane names on Facebook due to some spat over Zizi Kodwa) insisted that I interview her on camera because she has to tell me about her dress.
Bongi, like everybody else was drunk and probably should have stayed away from the camera BUT no oh no, Ms Thang wanted to be on camera so this is one moment of the 5 five minutes I had with her on camera ranting about herself, being a billionaire in January and eating sushi at ZAR Lounge.
Bongi is clearly a driven woman but her yearning to be a celeb will tarnish her image if she is not careful. Bet Penny is having a chuckle right now because this behaviour by Ms Alexandra has certainly put Penny on a pedestal ...
We all have these moments B, unfortunately yours was on camera :)
I will ask again... what exactly do you do for a living Ms Alexandra?